Assemble or combine two or more yarns
This process comes from the need to assemble or combine two or more yarns. Such a composite yarn is made of a central part called the core and an outside part called the cover. Very often, the core is a spandex fiber or natural rubber, which gives the wrapped yarn its elastic properties.
Covers may be natural fibers (eg cotton or wool) or synthetic (eg polyamide or polyester), which are first wound off onto flanged bobbins and then placed on a hollow spindle into which the core is fed.
A covering cycle, during which a spindle produces 600gr of covered yarn, may last from two hours (eg thick yarns used in industry and agriculture) to four weeks (eg fine counts for hosiery).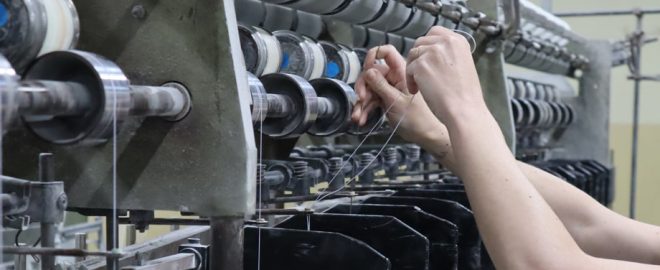 There are different types of yarn covering:
Conventional covering to produce single or double-covered yarns (one or two covers over a core).
Air covering to produce yarns that are simply intermingled.
Air and two-for-one covering, which provides a high resistant yarn, especially for warp (weaving).
Application fields
Medical
For many years now, Filix has been one of the leading European suppliers of medical textiles such as :
compression socks and tights
support belts
orthopedic bandages
knee braces and other splints
Developed by Filix in partnership with our customers, these products meet all quality requirements and conform to required specifications.
Our medical yarns undergo very strict inspections. They may be developed exclusively for you. Our machinery enables us to process any type of yarn, regardless of its characteristics. We have dedicated spaces under controlled atmosphere to avoid any fiber contamination.
If we can't make it for you, it's unlikely that any other supplier can !
More recently, we have developed anti fungal, anti bacterial and anti bedsore solutions in conjunction with doctors and dermatologists.
We are also involved in several smart textile projects dedicated to medical surveillance
Hosiery
Filix has been being in the hosiery market since it first existed. From rubber based sock-top to the finest pantyhose, our production tools are capable of satisfying your every need. For standard yarns, we offer a wide range of colors and new colors can be developed according to your requirements.
Our capacities allow us to be extremely reactive. We can supply products with relatively short lead time in order to reduce your needs for stock.
Weaving
Fashion is constantly changing. You have to be able to adapt and offer new fabrics that respect the environment and provide the best comfort.
That is Filix' vocation and commitment. Whatever are your needs, Filix has the experience and the expertise to develop the yarn that has the touch, aspect, softness and elasticity required to make your project successful.
Our organization and our teams' motivation enable us to rapidly develop products in an industry where reactivity and creativity are keys to success.
Knitwear
Whether made with polyester or polyamide over a spandex core, knitwear today is synonymous with comfort.
Filix yarns are notably used in sportswear. Filix enjoys a good reputation for adaptability by developing yarns for major brands that are today worn by top national soccer, rugby and baseball teams.
Privileged partner of the biggest seamless producers, Filix offers the ideal yarn for your new intimate articles which will enable you to differentiate your products from those of the competition. We can develop yarns, produce pre-industrial quantities, and then offer competitive prices, thanks to our capacity and support from our partners.
Lace
Filix has been being a leading supplier to lace-makers since spandex materials first arrived on the market.
Whichever the tool used by the customer, (eg Leavers, Raschel), Filix' experience is a valuable asset for developing and supplying yarns of the quality requested by the high fashion industry.
We supply the best warp and bourdon yarns for the most beautiful laces
Narrow weaving
Filix supplies the main European narrow ribbons producers, whether rigid or elastic.
Whether for lingerie, clothing or other uses, Filix offers you the yarn that will suit perfectly, and this in all possible materials.